How To Create the Perfect Private Cinema Space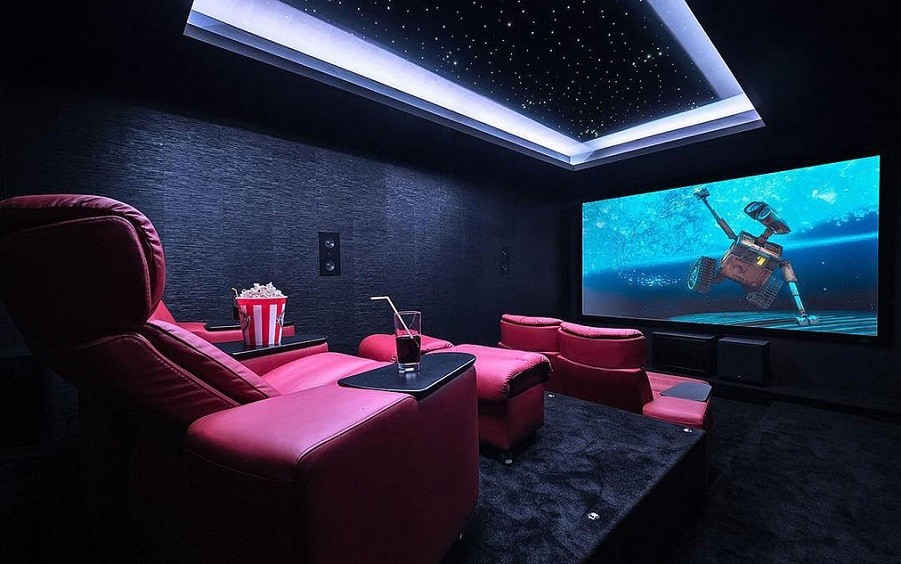 5 Essential Components for an Awe-Inspiring Home Theater System
When you step into your home theater, you want a space that looks different than any other room in the house. After all, a private cinema should create an atmosphere just like the movie theaters or even better! In fact, with the right technologies and components, your Sandy Springs, GA home theater system can transport you into the movies where you forget about the worries of the world for a while.
But how do you create the perfect cinema space for movies, media, gaming, and entertaining? In this blog, we'll focus on the five essential ingredients that ensure a luxury home entertainment experience that is second to none. Keep reading for all the details!
SEE ALSO: The 8k TV Revolution Is Here!
1. Front & Center: The Display!
Ever since TVs became popular in homes in the mid-20th century, homeowners have enjoyed countless hours of entertainment. But we're no longer in the 20th century. Old tech would look archaic if you put it in your home theater – even video displays from several years ago. Today's projectors and TVs offer 4K ultra-HD resolution (more than 8 million pixels). Furthermore, 8K and OLED technology is transforming the industry. You'll certainly see and experience the difference in your home theater.
2. Surround Yourself with High-End Sound
Here's where some homeowners go wrong. They install an amazing display but then depend on TV speakers or a basic soundbar for audio. You deserve better than that! Surround-sound with your home theater system changes everything. You'll feel immersed in a movie from the moment you press play. A properly installed and calibrated system creates 3D sound that makes you feel like you're in the film. With speakers all around you, even overhead, your system ensures an amazing auditory experience.
3. Illuminate Your Cinema Space
Audio and video are certainly essential components needed for a home theater, but it doesn't stop there. One of the most important ambiance-setting technologies is lighting. With fiberoptic lighting, recessed lights, wall sconces, floor lights, and other products, you turn your average home theater into one that comes to life. A lighting control system even makes your private cinema better than a movie theater. Not only is it completely customizable, but you enjoy one-touch control with a smart home touchpad.
4. Get Comfortable with Theater Seating & Decor
Your home theater doesn't need to look like your neighbor's. Since you're creating a luxurious and personalized space, you need to make it your own. Luxury theater seating puts you in a comfortable driver's seat for any home entertainment event, and they come in many styles with a range of custom features. While you're at it, don't forget the décor. Themed décor allows you to give your room personality. Choose between classic, modern, chic, or completely custom themes.
5. Take Control with Smart Home Automation
Everything is ready for you to enjoy the show except for one thing: smart home automation. Using your smart home tablet, smartphone app, or even your voice, you take control of any technology in your home theater or throughout your home. Lower the shades, dim the lights, and turn on the AV system with one button tap. If you have a high-end media server, you can watch the best-quality movies by accessing your own media library. It's the only way to truly enjoy premium home entertainment and seamless control of it all.
Upgrade your entertainment experience with a fully customized home theater system. Call Southern Cinema at 770.888.8848 or fill out our online contact form to request a consultation.
Stay Informed
When you subscribe to the blog, we will send you an e-mail when there are new updates on the site so you wouldn't miss them.