7 Characteristics of a High-Quality Home Theater System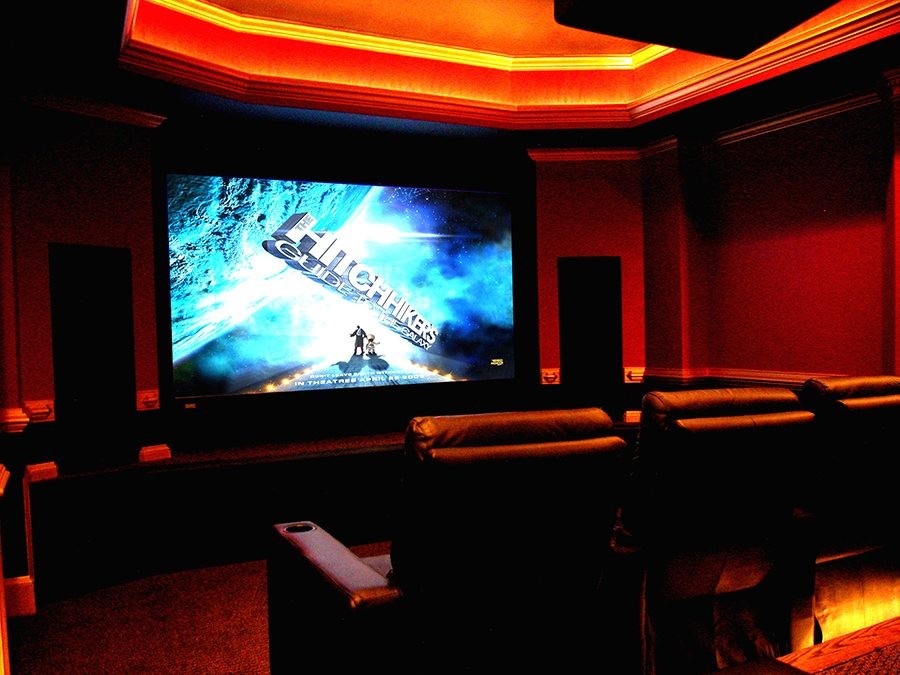 A Helpful Checklist from Georgia's Home Theater Experts
Not all home theaters are created equal. While you can technically stick a screen on the wall and a projector on a table and call it a home theater, there is a very distinct difference in quality between a DIY home theater and a professionally installed system. If you want a home theater system for your Alpharetta-Milton area home that is top quality across the board, then here are the seven characteristics it needs to have.

SEE ALSO: Considering a Home Theater Installation? Here's What to Expect
1. Stellar Surround Sound
One of the main things that creates that fully immersive experience in a commercial theater is the surround sound. During an action flick, you might hear a plane flying above you or a gun shooting to the right side of your head, making you feel like you're in the middle of the film. This experience is achieved by special surround sound speakers strategically placed throughout the room. The film's audio is parceled out so that individual sounds emanate from different speakers. If you're sticking with basic speakers or a regular soundbar, the audio quality just won't be the same.
2. Suitable Theater Seating
Speaking of audio quality, the types of seats you add to the room can impact how sound travels. Theater seating is typically designed to have low backs and fabrics that don't absorb sound, allowing the sound waves to travel to their intended destinations with ease. Of course, that doesn't mean you have to stick with the same seating you'd find in a commercial theater. There are a lot of flexible seating options that meet the above requirements—just ask your home theater expert for recommendations.
3. Appropriate Room Shape and Layout
While you can make a theater work in oddly shaped rooms, the ideal shape is a rectangle with the screen at one end and the seating pointing toward it. This layout not only ensures that movie-watchers have a great view but also creates an acoustic corridor for great sound. Avoid open concept theaters (unless you're in an outdoor setting) or odd placement of seats or décor.
4. 4K Ultra HD Visuals
A crystal clear image goes a long way toward making the movie-watching experience enjoyable, and that means investing in a 4K Ultra HD television or projector. 4K has four times the number of pixels as regular HD screens, which is a significant boost in visual quality. While not all media content is readily available in 4K, it is rapidly becoming the standard for both movies and television, and older films are even being upscaled to 4K resolution.
5. Themed Décor
When you walk into a dedicated home theater, you should instantly know that it's a theater. Often, the carpet, paint, and decorations are what differentiate a dedicated home theater from your average media room. You don't have to design the entire space around a unique theme, but your home theater installer can offer recommendations on color schemes and traditional theater décor that will create the desired ambiance.


6. Perfect Lighting Levels
Ambient light is a killer for image quality. If you don't want a glare on the screen or a washed out image, install theater-style lighting that is designed to direct the brightness away from the screen. These lighting fixtures still provide adequate lighting to see in your private theater, especially along pathways and entryways, but they keep the room dark enough that the eye can focus easily on the movie screen. We also recommend investing in a home lighting control system so that you can simply press a button on your smartphone or tablet and have the theater automatically adjust to the perfect brightness instantly.
7. Central Control System
Lighting control is generally considered an entry-level aspect of full smart home automation. When you add an automation system to your home theater, you can truly recreate that feeling of walking into a commercial theater and having the movie start without any effort on your part. A central control system connects all the technology in the space, from the projector to the screen to even the lights, and allows you to manage all of it at a push of a button. So if you want to watch the latest new release, all you have to do is pull out your phone, select the movie you want to watch, and press start.

 
If you want to go beyond the basics and get a home theater system that will wow your friends and family, contact Southern Cinema today.

 
Stay Informed
When you subscribe to the blog, we will send you an e-mail when there are new updates on the site so you wouldn't miss them.