Golden Ear Speakers Provide Sonic Perfection for Your Home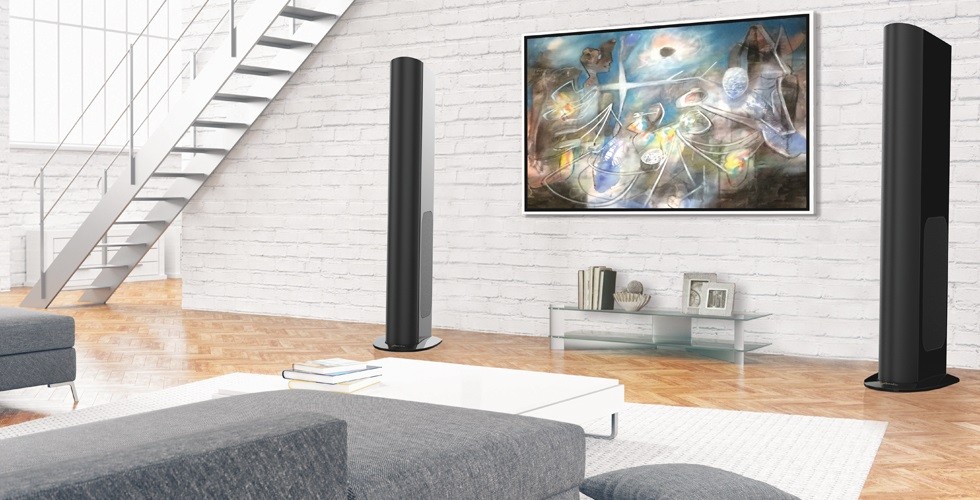 See How

the

Triton Line Generate

s

Superior Audio Unmatched

by

System

s

Twice as

E

xpensive
A great listening experience can change your perception of audio. The first time you hear a true HD audio file, hearing all the missing nuances from your typical sound system, you can never go back.
Audiophile is a term that is thrown around by music lovers, manufacturers, and equipment reviewers to describe the pinnacle of sound reproduction. The name is often applied to esoteric systems that cost more than high-end pleasure boats. While the units offer stunning sound reproduction, their cost and delicacy are often not practical for everyday listening.
Golden Ear, a term used to describe individuals who can hear the full spectrum of human hearing, is a company dedicated to, as they state on their website, "...deliver more sonic superiority, with performance that is often unequaled in competitors' speakers selling for three, four or five times as much ..."
To learn more about how Golden Ear speakers can provide the best listening experience in your St Augustine, FL smart home, read more below.
See Also: Three Reasons Your Property Needs Home Lighting Technology
Nothing

But

the Music
When properly done, the listening experience is one where the technology disappears, the sound transporting you into itself. A sound system's job is to reproduce the nuances and subtleties of the performance being played. This is true whether you listen to Mogwai's Every Country or Anna Clyne's Mythologies.
True Sound Reproduction
Golden Ear is the collaboration of Sandy Gross, Don Givogue, and Bob Johnson, all of whom are renowned audio designers in their own right prior. Their work aims to furnish the very best in sound reproduction that is so transparent and accurate you would swear the entire wall is made of speakers. Whether you are watching a 4K DCI resolution movie, enjoying multiroom audio, or are sitting down for a serious listen- the three-dimensional imaging will astound you.
The Triton line combines a beautiful visual package as it is functional. The High-Velocity Folded Ribbon tweeters use an accordion-like pleated diaphragm to squeeze air rather than the brute force pushing standard drivers generate. The result is a smooth extended response with little distortion. The subwoofers are engineered as an integral part of the boxless design to deliver awe-inspiring bass that is both subtle and aggressively room shaking.
The entire line of speakers, from stand-alone sets, in-ceiling, and surround sound, all exemplify the company's statement of having a passion for sonic perfection. Are you ready to make this yours?
Golden Ear Technology speakers can make any room of your home a superior listening experience. Are you interested in seeing how we can this for you? Contact us here or fill out the contact info below.
Stay Informed
When you subscribe to the blog, we will send you an e-mail when there are new updates on the site so you wouldn't miss them.